Welcome to our world
where we collect, curate and craft with original, vintage albums, magazines, books, photographs and more, to create one-of-a-kind art for every man, woman and child. From coasters and trays to stools and wall art, all our collections are handcrafted with obsessive love and meticulous craftsmanship.  We think we do a pretty good job covering the gamut of classic music, celebrity, tv and film, sports and ads, but we also make to order. If you don't see what you're looking for, we'll source it and customize it. With Pleasure!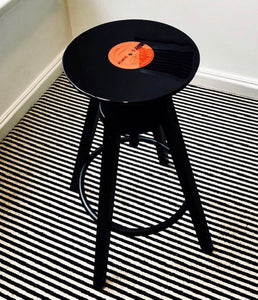 Customize It
If it can be imagined, it can be made. If we don't have what you're looking for, we'll find it. If you wanna figure out what to do with those concert tickets you've been collecting in a box for 20 years, we gotcha. Maybe you have your own album you want turned into a resin serving tray or cool stool... We're all about blowing your mind with handcrafted, one-of-a-kind pieces to light up your life.
Contact Us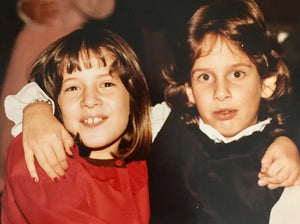 Laverne and Shirley
Friends since kindergarten, Upcycling It co-creators  Leah and Sam bring a lifetime of shared passions, diverse expertise and their combined brand of creativity to imagine and handcraft the most unique collection of fabulous functional art, and then some. Soon after launching their home business in 2016 with a dozen handcrafted coasters, featuring vintage Playboy covers, the twosome discovered a new obsession with resin. Today the majority of their collections shine like nobody's business, earning Leah the added title of Chief Resinator, and Sam the honour of Impossible Photographer.
Pictured: 1982. Leah (l) rocking some red hot taffeta in an Elvis-inspired do-up. Sam (r) frozen in time but oh-so avant in a black valour tuxedo twist (knickers below)
Contact Us